Choosing a Physical Therapist Other Than the One your Doctor Recommends
Choosing a Physical Therapist Other Than the One your Doctor Recommends
Written By Dr. Russ Mosher, DPT on February 22, 2021
---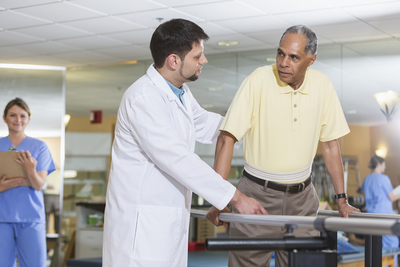 When people sign up for health insurance, they're given the option to choose their primary care doctor. But many people don't realize they can also choose their own physical therapist. Just because your primary care doctor refers you to a particular specialist doesn't mean you must be seen by that doctor. As a patient, you have certain rights that empower you to make the decision that's best for you.
You're Protected by the Patient's Bill of Rights
More than 20 years ago, the health care industry adopted The Patient's Bill of Rights. In this bill, patients are granted several rights that allow them access to services. This also gives them the right to make their own decisions about healthcare.
The bill empowers patients with numerous privileges, like the right to:
Make treatment decisions: The patient decides what treatment to follow.
Choose a healthcare provider: This includes medical practitioners from primary physicians to specialists, you have options.
Access information about quality: Healthcare coverage, statistics about hospitals, and doctors' credentials are accessible to the public.
The Patient's Bill of Rights protects you from being limited to your doctor's recommendations. It also grants you access to information to research your options and make medical decisions best suited for you. Now you can be more proactive in your approach to good health.
Seeking a Referral When Choosing a Physical Therapist
Since you know you're able to choose your own physical therapist, here are the steps you should take when seeking a referral.
1. Talk to Your Primary Care Physician
Typically, health plans only cover physicians' referrals. Meet with your doctor to discuss your medical concerns. If these can be treated by a physical therapist, talk to your doctor about which one you'd like to visit.
2. Confirm with Your Health Insurance
Before you set an appointment, find out your health plan's referral requirements. Make sure your chosen physical therapist will be covered by your insurance plan.
3. Schedule Your Appointment
If your referral is covered by insurance, call the specialist and set up an appointment.
Choose Dr. Russ Mosher, DPT for Your Needs
Talk to your primary care physician about seeking a referral for our Hampton chiropractic and physical therapy clinic. Our team has over 45 years of experience reducing pain, improving mobility, and supporting musculoskeletal health.
Call Dr. Russ Mosher, DPT (757) 902-1989 today to schedule an appointment and let us guide you to better health.

Posted In: Physical Therapy