Integrating Physical Therapy with Chiropractic Care
Integrating Physical Therapy with Chiropractic Care
Written By Dr. Russ Mosher, DPT on March 22, 2021
---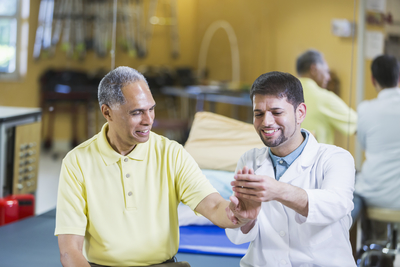 Physical therapy and chiropractic care are two healthcare services that manage pain, improve mobility, and support musculoskeletal health. Physical therapy primarily deals with joint function and aims for long-term, pain-free movement. Chiropractic care focuses on neuromusculoskeletal issues like spine and joint disorders and aims for bodily alignment that yields instant relief.
While the two practices are very different, both address pain relief and mobility with hands-on, non-surgical treatment. Integrating these complementary services can bring numerous health benefits for patients.
3 Benefits of Integrating Physical Therapy with Chiropractic Care
Integrating physical therapy with chiropractic care means patients with musculoskeletal issues get the best of both worlds - instant relief and long-term health benefits. Research shows the use of both services can result in a faster and longer-lasting recovery. Here are 3 ways integrating these two healthcare services can improve patient care and result in successful treatment outcomes.
1. Tailored Treatments
Physical therapists and chiropractors conduct thorough assessments of each patient. This enables them to develop appropriate treatment plans and develop effective metrics to gauge success. Every patient is different, so treatment must be tailored to the patient's specific needs. By working together, physical therapists and chiropractors can create a treatment plan that addresses short-term pressure pain and long-term joint and musculoskeletal improvement.
2. Safer Treatment Options
Physical therapy and chiropractic care are united in their approach to pain relief. Both services use hands-on, non-invasive methods in their treatment of neuromusculoskeletal dysfunction. By avoiding surgery and prescription medications, this integration helps patients make informed decisions about their healthcare without the added risk of more drastic measures.
3. Achieve Better, Holistic Results
Whether the goal is to recover from an injury or maintain full mobility, integrating physical therapy with chiropractic care can yield more holistic results. Physical therapy's experience in helping the body move combined with the knowledge of spinal adjustment in chiropractic care provides a well-rounded approach to musculoskeletal health. Patients will receive a broader scope of knowledge and experience for their treatment.
Dr. Russ Mosher, DPT Gives You the Best of Both Worlds
Our Hampton chiropractic and physical therapy clinic team has over 45 years of experience with reducing pain and improving musculoskeletal health. While chiropractic care is effective, we integrate it with physical therapy to speed your recovery and provide you with longer-lasting results.
Call Dr. Russ Mosher, DPT (757) 902-1989 today to schedule an appointment with Hampton's leader in musculoskeletal care.

Posted In: Physical Therapy